Seals of the new generation AGRO – SHELL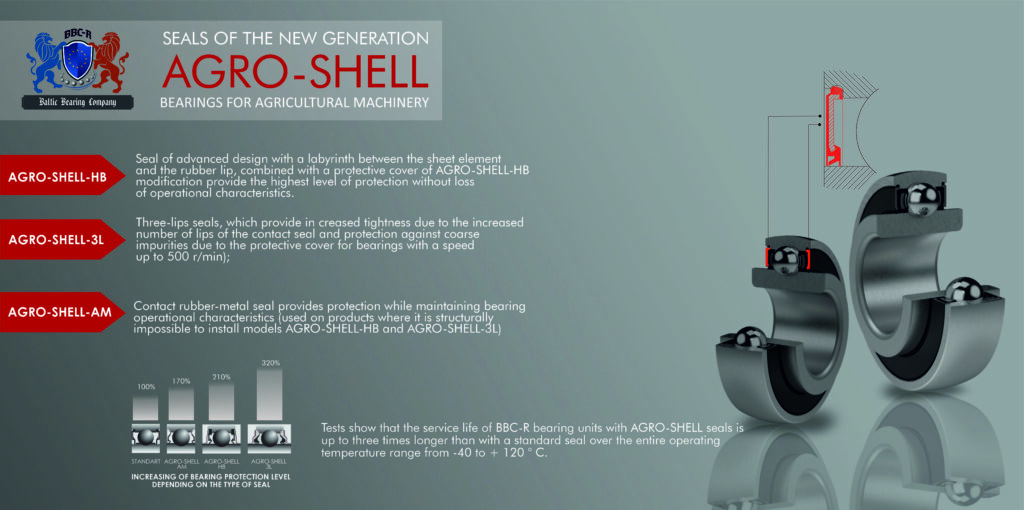 BBC Group offers its customers an improved design of bearing housing units.
Baltic Bearing Company is a European manufacturer of bearings, developing innovative solutions for customers. The R&D department together with the testing laboratory conducts regular investigations of the AGRO bearing operational characteristics, as well as improvements in the design of bearings and bearing units.
Since June 2020, the Baltic Bearing Company has completely switched to the new generation of housed bearings seals – AGRO-SHELL-HB.
AGRO-SHELL-HB
Housing bearing BBC-R with seal AGRO-SHELL-HB
Seal of advanced design with a labyrinth between the sheet element and the rubber lip, combined with a protective cover of AGRO-SHELL-HB modification provide the highest level of protection without loss of operational characteristics.
In addition, Baltic Bearing Company offers its customers high-quality specialized bearings for agricultural machinery with proven design solutions that correspond to the developments of the leading manufacturers in the industry to protect the units from contaminants, fine and coarse particles:
– three-lips seals – AGRO-SHELL-3L, which provide increased tightness due to the increased number of lips of the contact seal and protection against coarse impurities due to the protective cover for bearings with a speed up to 500 r/min);
AGRO-SHELL-3L
– contact rubber-metal seal – AGRO-SHELL-AM (AM – agricultural machinery), which provides protection while maintaining bearing operational characteristics (used on products where it is structurally impossible to install models AGRO-SHELL-HB and AGRO-SHELL-3L).
AGRO-SHELL-AM
Tests show that the service life of BBC-R bearing units with AGRO-SHELL seals is up to three times longer than with a standard seal over the entire operating temperature range from -40 to + 120 ° C.
Increasing of bearing protection level depending on the type of seal as tested
Bearing units and agricultural bearings of Baltic Bearing Company is a reliable solution for your equipment.
"We are developing together with you, we are developing for you"
BBC-R team
Also read:
Baltic Bearing Company – Riga. History of BBC-R building (bbcr.eu)
Quality Management System of Baltic Bearing Company – Riga. (bbcr.eu)
Measure thrice and assemble once | European bearing manufacturer «BBC-R» (bbcr.eu)
And watch us at Youtube: