Sergei Arakcheev, the Member of the Board, Head of the Technical Department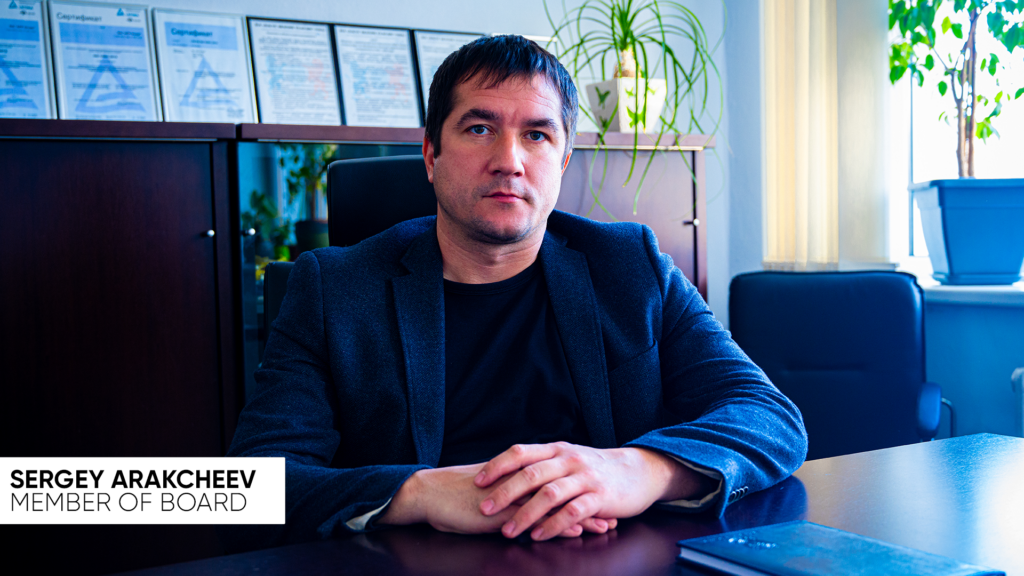 – Hello, Sergei! It would be interesting to find out about your responsibilities in the Company and the scope of your duties as a Member of the Board.
– Greetings! I will try to answer your questions as fully as possible!
My responsibilities include everything related to production and technical development of the Company, management of technical services. Ensuring the conditions for the implementation of production standards in terms of occupational health and safety, industrial and fire safety. Maintaining the everyday life of employees and thousands of little things that arise every day and require urgent decisions.
– At the same time, as we understand, one of the most important functions is product quality control, isn't it?
– Yes, indeed! The Quality Management System at our Company complies with the requirements of ISO 9001-2015 and each employee is ultimately responsible for the quality of the products manufactured by the Company.
– What is the main task in terms of production you are solving currently?
– Currently, we are finishing the installation of three new packaging lines, which are badly needed. The plant increased the output volume, therefore we purchased additional packaging lines to meet these needs, which is especially important for single-packed products.
– Can you share some details?
– As far as I understand, our Marketing Department is preparing a separate story thereof, so I will limit myself to a brief description. The lines are designed to pack bearings in film and boxes, which is done automatically. The products are packed both individually and in batches in one package. The lines consist of two carton packaging machines with loading and discharging tables plus one line for packaging in film and cardboard. The equipment is a state-of-the-art, I would even say exclusive, and, it should be noted, we managed to conclude a contract on very favourable terms for us. This indirectly indicates that the Baltic Bearing Company-Riga plant has reached a solid level and this is recognized by equipment suppliers. It is a good feeling.
– Sergei, to the best of our knowledge, you are one of those specialists who have been working at the BBC-R plant since its foundation in Riga, in fact, you have built it from scratch. Tell us how it was.
First there was a word and the word was a "place". Several factors added up here: the territory of the Freeport of Riga as a convenient hub with terminals nearby, a free customs zone, warehouses, and favourable logistics.
– Did you build in the middle of nowhere or was there something already on site?
– Building in the middle of nowhere is a dream that rarely comes true, alas, although we have such a project not far from Riga. This is almost one and a half hectares in a new technology park, where we plan to build warehouses and another quality control laboratory, but this is a topic for another conversation. As for the BBC-R plant, it was built on the site where the transport department of a fish cannery was once located. That is, initially, we were limited by a set of available conditions, such as: area, height and configuration of premises, technical capabilities for utility connections, etc. We cleaned out debris, broke walls, filled up pits, made new floors, redeveloped premises, in general renovated and redesigned everything from scratch virtually. It is always difficult to rebuild, it is always easier to build something new. The challenge is that it is necessary to fit into existing constraints, which is always a compromise. A decision to build an additional building may be taken as an example. Approximately in the middle of the project, we realized that there was an opportunity to improve the project by building an additional building, with an area of ​​1,500 sq. m. This made it possible to increase production capacity: to purchase and install additional equipment and assembling lines, as well as to allocate space for a warehouse to store work materials and components. Thus, we had to make changes to the project, coordinate and refine it, but we did it within a short time – just in three years. The project started in 2012 with the first draft of a business plan and the plant was commissioned in 2015. Taking into account all the approvals, alterations and redesigns, this is a very good result.
– Yes, undoubtedly, this is an impressive result. What about environmental safety? This is still a powerful production and, like any production, it has hazardous waste. How do you deal with this?
– The development of the plant project included and followed the necessary conditions to obtain the appropriate permit governing the disposal of waste from our Company. The plant was issued a Category B Permit. The Company has also developed and implemented an Environmental Management System in accordance with ISO 14001-2015. The ISO 50001-2018 Energy Management Certificate was received.
In this category, the standards for waste and emissions of a company in the production process are set forth: process fluids and their disposal, equipment waste, air emissions, limits for all types of energy consumed, etc.
According to the regulations, we are obliged to make changes related to the Company operations in category B, if we change the volumes or brands of process fluids, water or energy consumed, the volume of industrial waste, or have new emission points. We constantly monitor compliance with the conditions of the permit so as not to exceed the permissible limits.
The Company carries out separate waste collection. We sort waste into non-hazardous recyclable, mixed household waste and hazardous waste. Waste is collected in separate containers, marked with special codes and loaded into a special vehicle that serves industrial companies. Such transport can move with a special permit only, along the declared route strictly and does not have the right of free movement. All environmental procedures cost a lot of money, but we are responsible herein, because we understand that the problem of climate change has already moved from the theoretical to the practical area and concerned everyone. We and our children live in this world, so we are obliged to take care of its purity.
– It was an excellent and detailed answer, thank you! Are you planning to introduce any new equipment at the plant?
– Yes, we are. Last month we signed a contract for the purchase of equipment for bearing life testing. These are special test facilities used to check the life time of our products. A serious consumer of our products is extremely interested in the availability of reliable information on the conformity of products to the declared life time. The availability of such equipment will become an important element for completing the full cycle – from checking the work material to supplying the customer with a finished product with a guaranteed life time. Now, we do all this at one production site.
– Sergei, one cannot but ask a question about the pandemic situation. How are you getting on?
– I believe that we are more or less stable in this challenging situation.
We developed and took all the necessary preventive measures to contain the spread of coronavirus among the employees of the Company immediately: checking the temperature before the start of the working day, compulsory face masks, disinfectant facilities, maintaining a safe distance among the staff and other measures designed to minimize the likelihood of the disease. I must note that our employees are conscious for the most part and virtually all were vaccinated at the same time; we arrange vaccination at the Company. The measures taken had an effect: production volumes did not fall, but even increased somewhat. We redistribute resources, train people in additional professions, retrain, change the functionality according to the current needs.
– Well, I have a personal question finally. What is your hobby? How do you rest?
– I am keen on football and do not miss the opportunity to play. I love fishing.
– What is your education and career history before joining the Baltic Bearing Company-Riga plant?
– I have a degree in technical fields, graduated from the Volga Polytechnic College, followed by the Volzhsky Polytechnic Institute, with a major in the Process Flow and Production Automation. I worked at the Volzhsky Bearing Plant as a Deputy Head of the electrical repair shop. Afterwards, I was invited to participate in the BBC-R project in Latvia, and I have been working here since then.
Also read:
Baltic Bearing Company – Riga. History of BBC-R building (bbcr.eu)
Quality Management System of Baltic Bearing Company – Riga. (bbcr.eu)
Measure thrice and assemble once | European bearing manufacturer «BBC-R» (bbcr.eu)
And watch us at Youtube: